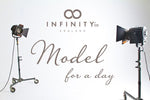 Model for a Day Photoshoot
After reviewing hundreds of photographs the Infinity & Co team were delighted to crown the winners of our Model for a Day competition. Beulah, Rachel, and Farida were selected based on their unique style and passion for fashion! We scheduled the date and everyone arrived ready for a full day of photoshoot fun at West Park Hotel in Harrogate.
In addition to the incredibly helpful staff at West Park Hotel, who brought us tasty food and a steady stream of lattes, we were lucky to have an incredible team of stylists to get the ladies ready for their moment in front of the camera. Both Joey Ferraro and Nathan Cosgrove of Joseph Ferraro Hair were on the scene to work their magic on our models' tresses. Helen Wren Makeup had the most vast and organised kit we'd ever seen to bring out the natural beauty of our three ladies. And last but not least, Mark Harrison must have been our lucky charm as we had a beautiful sunny day for him to take photos outside!
From our base at West Park Hotel, we shot inside and outside, venturing to the famous Stray and into town. From dodging cars to changing wardrobe in the middle of the park, posing with prosecco to hanging off fences in building sites - we did it all and our models obliged!
Keep an eye on our Instagram page over the coming months to see some of the great shots (and new jewellery pieces coming soon!)