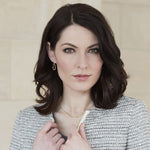 New Spring/Summer 2017 Collection
We are excited to launch our new SS17 pieces - three fabulous collections for spring that are both unique and timeless. 
Asymmetric patterns and organic shapes make Isabelle a collection for the lady who dares to be different. Stunning profiles and hand set feature stones make this a collection that is sure to catch the eye.
The delightful Love Story collection from will express just how you feel with the help of a gorgeous piece of jewellery. Polished accents and Pave set stones will ensure that the wearer understands the depth of feeling that inspired the gift.
They say Rose quartz can be used to lower stress and attract love? The Rosanna collection can't guarantee that but it can guarantee that the wearer is sure to attract admiring glances. Featuring natural rose quartz delightfully complimented by polished concentric circles and hand set stones this collection will bring out the romance in all of us.