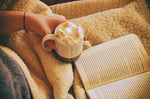 Top tips to de-stress during the holidays
It's a busy time of the year, with presents to buy, family to visit, parties to attend and cookies to bake. Don't forget to treat yourself during the holidays too! Here's a few of our favourite tips to de-stress and enjoy the season.
Check out the full list here at Health.com.
Think positive 
The holidays may drive you to your breaking point, but don't focus on the bad. Negative thinking can trigger the your body's stress response, just as a real threat does. Remember, it's time to celebrate with your family and friends (even if they do stress you out!). An optimistic outlook will help you cope with challenges that come your way.
Walk away from worries
"The rhythm and repetition of walking has a tranquilizing effect on your brain, and it decreases anxiety and improves sleep," says nutrition-and-wellness expert Ann Kulze, MD. Aim for a brisk, half-hour walk every day.
Take a whiff of citrus
Researchers studying depression have found that certain citrus fragrances boost feelings of well-being and alleviate stress by upping levels of norepinephrine, a hormone that affects mood. For an all-day pick-me-up, dab a little lemon or orange essential oil on a handkerchief to tuck in your pocket.
Do less, enjoy more
"We go overboard to please others during the holidays: shopping, cooking, sending cards, and attending every event," says George Pratt, PhD, a psychologist at Scripps Memorial Hospital La Jolla in California. "Instead, take care of yourself by saying no at least once—and maybe more."
Savor a spicy meal
Hot foods trigger the release of endorphins—the natural chemicals that trigger feelings of euphoria and well-being, Dr. Kulze says.
Go tech-free
Constant cell phone buzzes and email alerts keep us in a perpetual fight-or-flight mode due to bursts of adrenaline. Not only is this exhausting, but it contributes to mounting stress levels, especially in women. What better time to turn your gadgets off than during a holiday get-together? Enjoy spending time with your family and friends without worry.
Dip into some honey
You'll get an instant kick and energy for the long haul. Plus, research shows that its antioxidant and antibacterial properties may improve your immunity. Here's a tip: The darker the honey, the more powerful the antioxidant punch.
Treat yourself
While you're playing Santa to everyone else, don't forget that you've been good all year too! Whether it's some fresh makeup, a new dress, or a piece of jewellery, you deserve it!