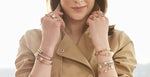 We're all for New Years resolutions, but in addition to dropping that extra holiday weight, why not resolve to improve your personal style this year? Here's a few top resolutions to consider:
You have pieces you love, so why not wear them more often? We love layering, especially with our bracelets and bangles.
Try a new colour
Maybe you've always worn silver - why not try rose gold? 
Say hello to pearls
Go modern with pearls by pairing with pave simulated diamonds - take it a step further by wearing with leather and lace.
Play with mixed media
Bracelets are all about leather and metal this year. Wear one of each or try our Dianna leather bracelet for the best of both worlds. 
Define your wardrobe
Get rid of anything you haven't worn (or looked at) in 5 years. You'll feel decluttered and make room for those new pieces you really do love!